Our Brands
Brands
Offers the most extensive line of trailers engineered with the finest craftsmanship. These trailers are the most reliable & durable, top-quality trailers available. Whether you're a landscaper, contractor, farmer or power sports junkie, you can find an H&H trailer suitable to meet your personal and professional needs.
---

Through the years, Besler Industries has produced around 40 different products and has earned a reputation for manufacturing durable products with quality and workmanship that is second to none of the competition.
Besler Industries Inc. has come a long ways in the past 40+ years, developing into a medium sized manufacturing facility with over 400 dealers nationwide. The facility has grown to meet the demand of the products manufactured. The main production lines are round bale unrollers and tillage equipment. Due to high customer satisfaction Besler Industries, Inc. has grown quite rapidly over the past years. With continued innovations in our current production lines, we expect continued growth in the future.
---

Zimmerman Truck Bodies provide the marketplace with unique, innovative, quality products designed with simplicity and integrity. Zimmerman is a distinguished excelling company dedicated to accepting and overcoming the challenges as they are presented.
---

If you use your truck for a truck, then you'll appreciate all the standard features on a Bradford Built truck bed. Things like 1/8″ thick tread plate floor, a 30,000 lb. rated gooseneck hitch and the incredibly strong receiver type bumper hitch. With the 4″ tall flip-up side rails, you won't be back tracking, looking for your chains or spare tire. Chain "keyholes" in the headache rack, flush-mounted D-rings in the side rails and stake pockets in the deck make it easy to secure any load. The sealed beam lights are flush mounted and there is a 7-pole plug-in for your trailer. The rear corners of the deck are tapered so backing up a little too close to the dock won't take out the lights. The forward taper allows for locating the gooseneck ball further forward while still clearing your trailer gussets in a turn. The powder coat paint gives it an attractive, durable and easy-to-wash surface.
---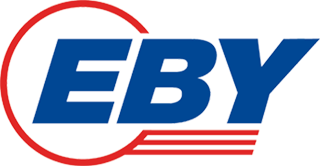 A HERITAGE OF INNOVATION
BUILT INTO EVERY TRAILER
EBY's culture of craftsmanship and innovation is a family tradition that has been carefully cultivated over three generations. Born in 1938 as a wood livestock truck-body manufacturer, quality and customization quickly emerged as signatures of the young company. As the product line expanded into trailers and semi-trailers, ingenuity and forward-thinking distinguished the next generation as it helped revolutionize the industry with all-aluminum construction. Now in its third generation as a family-run business, this heritage of innovation is firmly welded into its DNA. While modern manufacturing capabilities -- such as computer-aided engineering and precision robotics -- help provide customers with the most durable, longest-lasting product, it is the people behind the process that make an EBY trailer really shine.
As a heritage of innovation is built into every trailer, a family of sales, service, design, engineering, manufacturing, and support stands behind it... and EBY welcomes you to the family.
Millroad Trailers will outfit you with the best performing standard and customized trailers available in Canada. We want you to have access to the highest quality equipment for your heavy duty transportation needs and so we dedicate almost 100% of our time and energy to ensuring that our trailer models meet and surpass global industry standards.
We partner with many dealers that carry our product which may be just around the corner from you. There is no need to look elsewhere in the quest for Canada's best high-quality custom trailers. Once you've seen what Millroad Trailers has to offer, you've seen the best and you'll definitely realize this once you inspect and examine our products...
From start to finish, our process is unmatched.
First, all steel used in the manufacturing of Behnke trailers is sourced from multiple Midwest steel distributors and mills to ensure that we are getting quality steel at the best prices possible.
We process all of our material internally on our saws, structural plasmas, structural lasers, and laser tables.
Material is then taken to our industrial shot blaster, so all steel is clean, virgin metal before being welded.
Next, our highly trained welders are provided material for each specific build.
When trailers leave welding they are taken to our wash room and are rinsed with an acid wash and then taken to a drying room where they undergo inspection while drying.
Once dry, we apply a zinc rich primer, then roll the trailer into our 1st convection oven, where the primer is cured.
We apply our powder coat top-coat and then bake the finish in our 2nd convection oven. Top-notch quality PPG ultra durable powders are exclusively used on all of our products to extend the longevity of our paint job. Our obsessive powder coat process gives us a leg up on the competition, because we go the extra mile to ensure you get the best paint job possible.
Next is our finishing area where the trailer starts to take shape: axles are mounted, electrical is run, air lines and hydraulics are plumbed if applicable, and reflector tape and decals are applied. All trailers have modular wire harnesses running thru conduit, and have flush mount LED lighting. We use top notch components such as Dexter axles and suspension, Hutch suspension, and Ridewell Suspension.
Finally, our trailers are taken to our decking department, where No. 1 treated yellow pine, rough oak, apitong, or composite decking is applied, and then the trailers are stacked.